Now, at the beginning of a new investment cycle, which we are anticipating will be punctuated with volatility and dispersion between sectors, it's likely these passive risk management settings will be tested.

Indeed, passively managed funds are also passive in regard to risk management.

Passive risk management relies upon the notion that correlations will remain stable, that future return distributions are normal, and market dynamics will repeat themselves.

Relying on these assumptions is potentially dangerous for investors given correlations are can change, bonds are now less effective as a defensive measure and market liquidity in this new passive paradigm remains untested.

For those who are nearing or close to retirement, there's nothing more important than capital preservation. Given the drift towards passive funds management and the changing investment cycles, there has never been a more important time to question whether you are comfortable with your risk being actively or passively managed.
Correlations are shifting?
Correlations between equities and bonds have been persistently negative for the last 25 years.

But the problem is this relationship between equities and bonds doesn't always hold. Both asset classes can experience conditions where prices rise or fall together, such as when inflation rises quickly, resulting in positive correlation and a sharp rise in the realised volatility of portfolios relying on it.

The last 25 years of inflation targeting by central banks have seen quite stable inflation levels, and as shown in the chart below, correlations have been persistently negative. The prior 25 years, however, saw consistently positive correlations, and this period in the 1960's started with similar conditions to what we have now. Full employment, low inflation, but with a large fiscal stimulus in the US.

Today we have central banks more willing to let inflation "run", and an unprecedented surge in US fiscal stimulus at the same time as employment is already full. This raises the potential for inflation to surprise to the upside, and it would likely change the relationship between rates and equities as well as severely test any strategy that passively relied on that correlation to manage portfolio risk.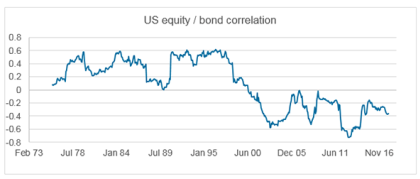 Source: AMP Capital. As at January 2018. Chart shows rolling 3-year periods based on monthly return series.

Bonds are less effective
A key assumption about bonds is that they will always have a role to play in an adverse market, an assertion which is indeed correct. Bonds act as safe-haven assets in market corrections and downturns – that is, unless inflation or sovereign default are the cause.

But the ability of bonds to play that role as effectively as before is driven by current yields. Put simply, bonds offer far less bang for buck in a downturn than they did 5, 10 or 20 years ago, simply because interest rates are already low. The charts below demonstrate this by showing the payoff for an Australian 10-year bond after a 10 per cent fall in rates.

A decade ago we could enjoy an approximate 6 per cent return from that 10 per cent fall in yields, today we would expect less than 3 per cent for the same fall.

To make matters worse the offset in terms of yield is so low that rates only need to rise a little before we suffer a capital loss. Using the same example, a decade ago yields could rise 0.6 per cent over a year before we suffered a capital loss, today that figure is less than half where rates need only rise around 0.3 per cent to take your return on bonds negative.



Source: AMP Capital. As at January 2018.

At the same time, other areas that offer defensive characteristics have also changed. The Australian Dollar for example has often provided a buffer in cyclical downturns as it tends to fall in value when global growth slows sharply. Betting against the AUD, however, has been relatively costly as our interest rates have been much higher than say those in the US.

Today, the relationship between the currencies has changed, as US rates have risen relative to Australia, and we now get paid to hold a "short" position in Australian markets.

An active risk management approach enables us to trade off valuation, cost and potential payoffs in a downturn to assemble the best defensive portfolio.
Who is managing your risk?
A key distinction between a passive fund and an actively managed fund is who is responsible and accountable for making decisions.

In a passive fund, the end investor effectively 'owns' the outcome and if there is a decision to be made - it is purely the investor's decision. In an actively managed fund, preferably where the fund manager has full alignment and 'skin in the game', any decision is made by the portfolio manager, who is motivated and accountable for managing risk effectively.

For those in retirement who are invested in strategies where risk is passively managed, they may want to reconsider their investment approach as there is a higher chance over the next cycle that it will become much more apparent as to who is prepared and who has their fingers crossed.
To discuss further please contact us on 03 9770 6499

Source : AMP Capital February 2018